Working Principle of Mechanical Seal
Description
Mechanical seal is a shaft seal device used for preventing leakage combined with sealing accessories.
Main Structure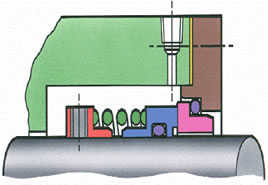 Mechanical seal is usually composed of stationary ring, rotary ring, flexible member, spring seat, set screws and secondary sealing rings. And anti-rotating pin is fixed on the gland to prevent stationary ring from rotating. Rotary ring and stationary ring can be called compensation ring and non-compensation ring based on their axial compensation ability.
The mechanical seal shown above is a simple light-duty design. The sealing interface where the seal rotating and stationary faces make rotational contact is a plane annulus. The sealing faces themselves are lapped to a very high degree of flatness, measured in wavelengths of light. The body of the rotating component of the mechanical seal is free to float axially. This enables hydraulic pressure to keep the main sealing faces together in operation. If in the absence of hydraulic pressure, the spring serves the same purpose.
The closing force on the seal is designed to provide an acceptable compromise between leakage and wear. It must also be sufficient to prevent the faces from separating in the event of mechanical shock or a pressure fluctuation. A secondary seal prevents leakage between the floating assembly and the shaft, and a rubber O-ring is often used for this purpose.
Advantages
1. Mechanical seal is stable that leads no leakage. In the run of long period of time, if the seal is leaking, the leakage content is just 1%. Consumers needn't worry for that.
2. It has long operation time. In oil or water, it can maintain 1 to 2 years or longer time. Even in chemical mediator, it can keep half a year.
3. The frication power consumption of mechanical seal is lower, just 10%~50% of other soft packing seals.
4. It needs no regular maintenance due to its compensation ability.
5. Mechanical sealing parts are of good vibration resistance.
6. It can be used under the conditions of low temperature, high temperature, vacuum, high pressure, corrosion, etc.
Shanghai Trisun Parts Manufacture Co., Ltd. is specializing in designing and manufacturing various fluid seals, including dry gas seals, agitator seals, cartridge seals, metal bellows seals, etc. Our company has the ability to produce at least 10,000,000 sets mechanical seals, 1,000,000 sets of auto water pump impellers, 200,000 sets of variable automotive air conditioner control valves, and 20,000 sets of metal bellows seals and cartridge seals annually. For more detailed information, please feel free to contact us. We will do our utmost to provide optimal service to you.
Related Product
Single & Dual Cartridge SealsCartridge seal is a ready-to-install mechanical seal. All parts of this cartridge mechanical seal form a compact unit together with the shaft sleeve, casing parts, connection flange and torque transmission...