Metal Bellows Seals
Characteristics of Metal Bellows Seals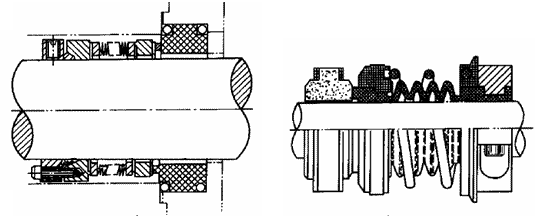 As bellows (compensation mechanism) and one of sealing rings (rotary or stationary ring) are a whole, with no secondary seal ring in the middle, thus reducing leakage content and the friction resistance of bellows. For welded metal bellows seal, it is of high temperature resistance. As to PTFE metal bellows mechanical seal, it can be used under corrosion condition.
Types of Metal Bellow Seals
Metal bellows mechanical seals have wide applications, regardless of low temperature or high temperature, neutral medium or corrosion medium, low speed or high speed, ordinary condition or harsh condition.
If the medium is neutral (oil or water), rubber metal bellows seal can be chosen. If it is of corrosion medium, like acid or alkali, PTFE metal bellows seal is suggested to choose. In high temperature and high rotary speed, welded metal bellows mechanical seal can be adopted.
Characteristics of Welded Metal Bellows Seal
The bellows of this seal is made up of rolled metal sheet which shows annular corrugated shape. Finally, the bellows is of S shape, like wave. This welded metal bellows does not need secondary ring. It can be applied in a wide range of temperature (-200℃ to 600℃), moreover, it can also stand strong vibration and swaying caused by high speed. This kind of bellows has excellent compensation ability to make sealing face well matched.
But if this welded metal bellows mechanical seal often works in high temperature, the elasticity tends to decrease. So when using for a long period, we should pay attention to that.
Advantages of Welded Metal Bellows Seal
Welded metal bellows mechanical seal is famous for its simple structure, good elasticity and high temperature resistance. Thus it is widely used especially in high temperature pump. Moreover, it has become the main sealing way in some countries.
Calculation of Elasticity of Welded Metal Bellows Seal


Without using spring, the elasticity of welded metal bellows mechanical seal is generated by bellows. When designing bellows, elasticity rate should be taken into consideration. Commonly, the elasticity rate of bellows should be small. But if a degree of elasticity is demanded, the amount of compression of bellows should be designed larger. Thus after a long time of operation, bellows will compensate the abrasive sealing surface automatically without lessening much elasticity.To guarantee enough elasticity, the amount of compression should be near 10mm, and it cannot be lower than 6mm. To guarantee a degree of compression, the number of wave on the bellows should be increased (normally 16 to 20) to keep space for each wave. When in operation, the deformation of each wave had better keep small. The elasticity of welded metal bellows seal is a function of geometry and material, and we often calculate it by following formula.
Reasons of Asymmetric Bellows Appearing
1. Although welded metal bellows mechanical seal has many advantages, it is not stable at home due to the fabricating material (18-8 type stainless steel). This kind of material is corrosion resistant, but the strength and elasticity is not good.
2. Welded metal bellows seals abroad are fabricated by AM350 precipitation-hardening stainless steel, which has enough strength and elasticity under high temperature. There is no possibility to lose elasticity. However, it also shows some defects after a long period usage. Crack often occurs near the welding place owing to stress maldistribution.
3. The present welded metal bellows is also called symmetric bellows, because the trough and crest are the same in geometry and dimension. To overcome the disadvantages of symmetric bellows, asymmetric bellows appeared.
Characteristics of Asymmetric Bellows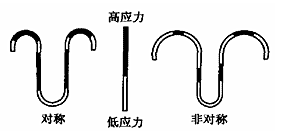 Different from welded metal bellows, asymmetric bellows' trough and crest is different in radius of curvature, while crest's radius of curvature is larger than that of trough. When under pressure, the deformation often occurs near low-pressure side, leading stress well-distributed. At the same time, the asymmetric bellows adopts special structure, lessening welding length.
Materials Choosing of Bellows under High Temperature
The materials of bellows under high temperature are internationally using AM350 precipitation-hardening stainless steel, which is a kind of high alloy steel with super strength. Please refer to following charts covering chemical components, performance and durability.
Parameters of AM350 Chemical Components

Unit ﹪
c
Si
Mn
Cr
Ni
Mo
Fe
0.10
0.40
1.00
16.5
4.25
2.75
Rest
Parameters of AM350 Performance


Heat Treatment Condition: Solid Solution +(-73℃)Freeze + 850℃ Heating 1~2h
AM350 shows superior advantages in performance. After solid solution, it has the features of austenite steel, easy to cold forming. Then through reinforcement, it has features of martensitic steel, which is of high strength and high hardness. Thus it is a good material for fabricating welded bellows. But the temperature had better be under 315℃ to guarantee a longer service life.
Parameters of AM350 Durability (MPa)


The precipitation-hardening stainless steel in our country includes OCr17Ni7Al, OCr15Ni7Mo2Al, OCr17Ni4Cu4Nb, which are good replacement materials.
High Temperature and High Corrosion Resistant Materials for Bellows
When bellows often working in high temperature and high corrosion condition, bellows should be fabricated with high nickel alloys (like Monel hastelloy, Inconel). And Inconel 718 is a brand that is commonly used, featuring high temperature resistance, high corrosion resistance and good elasticity. It is commonly used material for metal bellows sealing. Below are the parameters charts.
Performance of Inconel 718 Alloy


Chemical Components of Inconel 718 Alloy


Chemical Components of GH169 Alloy


Inconel alloy is of high nickel alloy, while AM350 alloy is of precipitation-hardening stainless steel. Though both are common used materials in Japan, the price of Inconel alloy is much higher than AM350 alloy. Inconel alloy features higher corrosion resistance, which is widely used in petroleum and chemical industry. However, AM350 alloy is commonly used in oil refinery.
Referring to the chemical components of Inconel alloy, we can find GH169 alloy in our country has much similarity to Inconel alloy.
Inquire Form